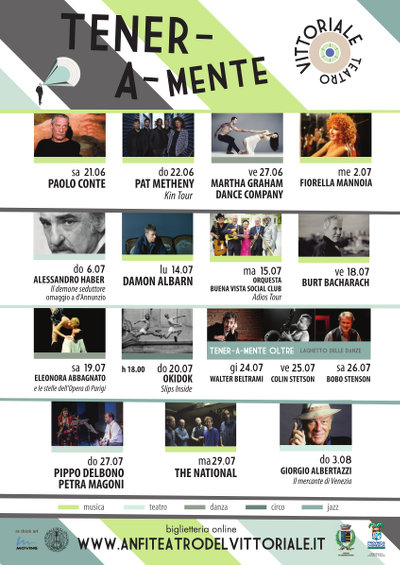 New season coming for Tener-a-mente ( keep in mind ), the festival of the "Vittoriale" in Gardone Riviera, which this year will feature again artists of great importance.
One of the most popular artists in Italy and in the world, Paolo Conte, accompanied by his band history, will be on stage Saturday, June 21st.
Following on Sunday, June 22nd, Pat Metheny with his quintet renamed Unity Group, whose first album "Kin" will be released in February.
On June 27th, it will be the turn of the Martha Graham Dance Company, historical modern dance company for the first time at the Vittoriale.
On July 2nd, after 11 years since his last appearance on stage at the Vittoriale back the highly acclaimed Fiorella Mannoia.
Coming next in July and August: Alessandro Haber, Damon Albarn, Orquesta Buena Vista Social Club, Burt Bacharach, Eleanor Abbagnato, Okidok, Walter Beltrami, Colin Stetson, Bobo Stenson, Delbono and Petra Mangoni, The National, and Giorgio Albertazzi in "The Merchant of Venice "
Download Programm Teneramente 2014