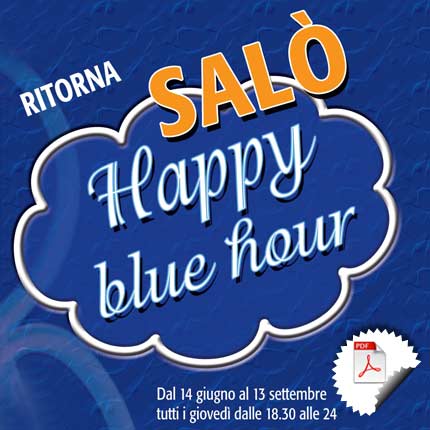 "Happy Blue Hour", the famous event that will liven up every Thursday summer evening until mid-September, returns! The event will be staged from 18.30 to 24, with bars and restaurants in the city offering special aperitifs, while in the old town and the lakeside resonate the notes of several bands that will perform live. The Happy Blue Hour is a collective ritual that boasts numerous imitations, so many that the town of Salo has decided to register the trademark.
The official opening ceremony will be Thursday 13th at 20:00 on the lakeside promenade of Salò.
The "movida" of Salo gave birth to a new way of conceiving the evening entertainment, a collective ritual created by the Town Council and staged under the direction of the Pro Loco. Already in 2011 and 2012 it has proved a resounding success, becoming one of the events that boasts, around the lake, the largest number of imitations. The Happy blue hour is a very special event: every Thursday from 18:30 all the bars, restaurants and pubs located along the lakeside promenade, Piazza Vittorio Emanuele and the old town centre will flood exceptionally public spaces, expanding their stallage, and will offer live music and live performances to animate a sundowner rich of dainty food and full of suggestions. It is an exciting opportunity to meet and party around the gulf, a way to better enjoy the nightlife in Salo, young but not coarse, cheerful but not rowdy, appreciated by locals and tourists. The Happy blue hour is a great event that involves the whole city, an event on which the curtain rises at the stroke of so-called "blue hour", that amount of time that elapses between light and darkness, during twilight, a special moment for the particular color of the light of the sky, which is tinged with a deep blue and is reflected in the calm waters of the gulf. On this occasion, along the lakeside and the entire town center perform several musical groups, which will be the soundtrack for a drink, which can be prolonged indefinitely throughout the evening, until the stroke of midnight. It will also be a chance to discover the many opportunities offered by the shops and boutiques located along the famous shopping streets of Salo, since many shops remain open beyond normal business hours. A wonderful opportunity, then, to discover the charm of the evening and night of this city full of history and charm, that every Thursday is consecrated to the fun and merriment.
The only exception will be the date of Wednesday, August 14th that "replaces" Thursday 15th , traditionally dedicated to the concert of the local orchestra.